SpareBank 1 SMN wishes to identify and engage with stakeholders on a continual basis with a view to developing the group's knowledge base and assignment of priorities. The ownership model ensures that the local community is represented on the group's governing bodies, and the business model builds on local knowledge and relations with the populace throughout the region.
Good stakeholder management provides SpareBank 1 SMN with valuable information and a better foundation for good decision making. The group meets requirements and expectations from the group's various stakeholders in an open and constructive manner. An overview of significant stakeholders is shown in the figure below.
A summary of our latest stakeholder analysis is published in Sustainability Library at smn.no.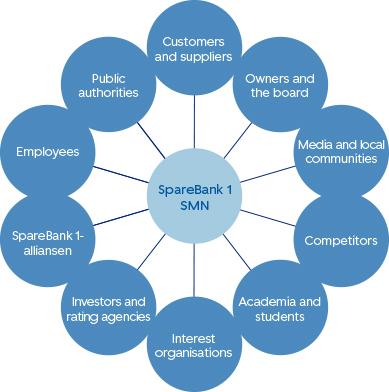 Memberships
SpareBank 1 SMN supports or has given its endorsement to the following external initiatives, charters or principles in the economic, environmental or societal area:
UNEPFIs Principles for Responsible Banking
UN Global Compact
Environmental Lighthouse
SpareBank 1 SMN is a member of the following industry organisations or other amalgamations, and national/international lobby organisations:
| | |
| --- | --- |
| Finance Norway                                                                    | Business Association for the Trondheim Region |
| Norwegian Savings Banks Association | Levanger Business Forum |
| Finance Industry Authorisation schemes (FinAut) | Samarbeidsgruppen Midtbyen |
| Steinkjer Business Forum | Trondheim Craftsmen's Association |
| Norwegian Association of Real Estate Agents | Haram Business and Innovation Forum |
| Real Estate Norway | Næringshagen i Orkdalsregionen |
| Rennebu Business Association | Shippingklubben Ålesund |
| Islamic Cultural Centre (ICC) Norway | Business Association for the Ålesund Region |
| Windcluster Norway | Rauma Næringslag |
| Norwegian Bar Association | Maritimt Forum Nordvest |
| Supervisory Council for Legal Practice | Maritimt Forum Midt-Norge |
| Vestnes Business Forum | Fosnavåg Shippingklubb |
| Molde Business Forum | NCE iKuben |
| Vestnes Handelsstandsforening | Mid-Norway European Office |
| Kristiansund and Nordmøre Business Forum | Namdalskysten Business Association |
| Hustadvika Business Forum | Inderøy Business Association |
| Aukra Business Forum | Orkladal Business Association |
| Molde Sentrum | NiT Melhus |
| Sunndal Business Association | Frøya Næringsforum |
| Destinasjon Molde og Romsdal | Hitra Business Association |
| Nordic Arena Nettverk Møre  | NiT Indre Fosen |
| Lean Forum Nordvest | Ørland Business Association |
| Surnadal Business Association | Oppdal Business Association |
| Verdal Business Forum | UT Project Trondheim |
| Namsos Business Association | United Future Lab Ålesund |